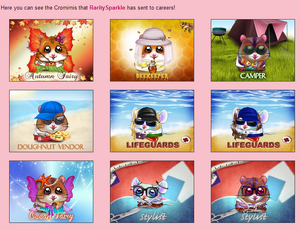 You can send your cromimis on careers if you wish, which will increase your daily salary of gold mimis, allow you to wear exclusive outfits, and display your cromimi on your careers page in their corresponding work outfit!
Important to note:
Edit
Once you send your cromimi on a career, it will not "come back." You cannot breed it again - it no longer lives in any of your cages. You cannot train, challenge, or play with it on its individual page either. It will remain as a static image on your career page, but you can mouseover each cromimi to see his or her name and see how long he or she has been at its given career.
Career options and needed qualifications:
Edit
Ad blocker interference detected!
Wikia is a free-to-use site that makes money from advertising. We have a modified experience for viewers using ad blockers

Wikia is not accessible if you've made further modifications. Remove the custom ad blocker rule(s) and the page will load as expected.