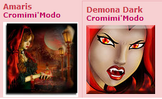 What happens if you encounter a problem on Cromimi? There's no general "modbox" or report area, so you'll have to private message one of the active moderators (called Cromi'Modos, or "Modos" for short). But who specifically should you message? Who are the active moderators?
The active moderators
Edit
The active moderators of Cromimi are Amaris, Demona Dark and KalikaMarie. To message either of them, simply click on your inbox icon (the pink envelope at the top) and type one of their names into the recipient box. Add a brief subject and describe your issue in detail, then submit! They usually take a day at most to get back to you, but are often much quicker. There are other moderators on Cromimi, but they are relatively or completely inactive and your problem will be unlikely to be resolved.
What should you message them about?
Edit
It is very important that you're clear on what you should message the modos about versus what you shouldn't. You should always message them regarding the following:
You find rule breaking on the forums, in your private messages, or while viewing other people's accounts/cromimis. Rule breaking is as follows (this is not an exhaustive list): swearing, harassing other players, talking about how to cheat or about inappropriate [sexual, grotesque] topics, spamming, double-posting on topics, etc. See the "General" board for further information on what consistutes rule-breaking.
You have an issue regarding your private account information
You have a question about level objectives past level 10. All levels after level 10 are considered "top-secret" and are not allowed to be discussed or asked about publicly on the forums! You can also try asking other players through private messages who have already passed the level you have a question about, if you prefer, but the modos openly state that they are more than happy to answer such questions.